Technical Information Pages for the Restoration of the BMW R75 and Zündapp KS 750.
Editor: ERSATZTEIL DIENST Hans-Peter HOMMES 41363 Jüchen Kamphausen 156 C/2
Monthly available on our website. www.wehrmachtsgespann.de

No.
57

Subject

Tools in the bike

Editor

H-P HOMMES

Dat

e


© 2009 h-p hommes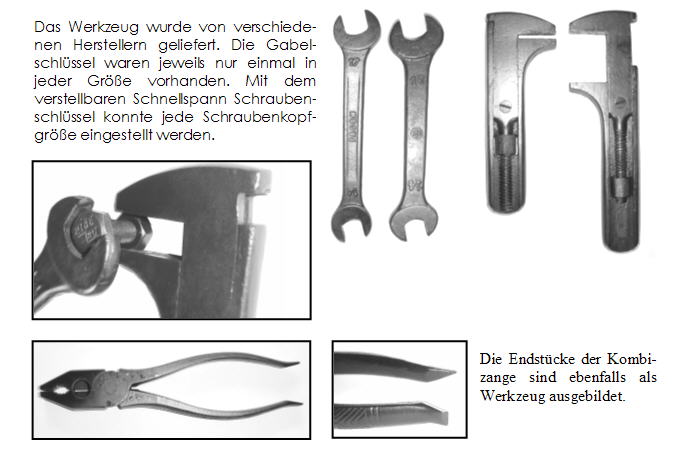 There were two tool bags.
The small one and the big tool bag.
The small one contained the normal tools and in the big one were the special tools for maintenance.
.
As an example the content of the big tool bag for BMW R75 below
| | | | | |
| --- | --- | --- | --- | --- |
| | | In the big tool bag there are: | version | size |
| | 1 | double ended wrench (Doppelschraubenschlüssel) | 1 | 19-22 mm |
| | 1 | hexagon socket wrench (Sechskantsteckschlüssel) | 1 | 10-11 mm |
| | 1 | hexagon socket wrench (Sechskantsteckschlüssel) | 1 | 14-17 mm |
| | 1 | turn pin straight (Drehstift für Steckschlüssel) | 1 | ø 7,0 mm |
| | 1 | special tool for front fork (Sonderschlüssel für Gabel) | 1 | 36-41 mm |
| | 1 | hook spanner (Hakenschlüssel für Auspuff) | 1 | - |
| | 1 | tool for brake (Sonderschlüssel Vierkant für Bremsverstellung) | 1 | 6 mm |
| | 1 | bleed plug (Entlüfterschlüssel mit Entlüfterschlauch) | 1 | - |
| | 1 | grease press (Fettpresse)160 mm | 1 | ø 30 mm |
| | 1 | socked wrench (Steckschlüssel) | 1 | 19 mm |
Wir bieten an:

Ersatzteile + Zubehör + Instandsetzung
für Motor, Getriebe etc. der
Zündapp KS 750 und 600

Wir bieten an:

Ersatzteile + Zubehör + Instandsetzung
für BMW R75 und Zündapp