We are the specialists for  Zündapp KS 750 and BMW R75
We make a range of more than 600 parts, from gears to electronic regulators and sidecar bodies.
We offer you a complete service with expert advice.
We operate an exchange service for motors, gearboxes,  rear differentials, and all major assemblies.
We have immense experience with these special machines. We have been driving them and working on them for more than 20 years.
Ask us for our 60 page illustrated catalogue for either the BMW R75 or Zündapp KS 750 - please tell us which one you want.
Do you have a problem with your Zündapp KS 750 or BMW R75 - Please ask us - we have the answer - and we speak English!
 Spare part service
Hans-Peter Hommes
GmbH
Viersen
Dear Fellow  Enthusiasts
We have specialised in producing spare parts exclusively for Zündapp KS 750 and BMW R75 for more than 20 years. For the last 12 years we have producing our parts in our own specialised manufacturing company.
We work from original drawings to produce our spare parts.
We take great care to select exactly the right material, to ensure that our parts match the originals, and produce all our parts under careful control to provide you with excellent performance.
The reliability of our spare part service, the quality of our products, and our professional expertise is well known among Zündapp KS 750 and BMW R75 drivers.
We usually reply to any enquiry within a week, and can usually deliver parts from our own stock. If there is any delay we will let you know the expected delivery date.
We despatch our spare parts, motors, transmissions and accessories world-wide
Apart from spare parts and accessories we offer you a complete exchange service for assemblies such as: gearboxes, carburettors, dynamos, magnetos and so on.
You send us your old units - we assess their condition and give you a free estimate for the cost of a complete repair or for supplying a fully overhauled exchange unit.
Our estimate will depend on the condition of your old unit.
BMW webshop click here Zündapp KS 750 webshop here
One page from the BMW R 75 catalogue: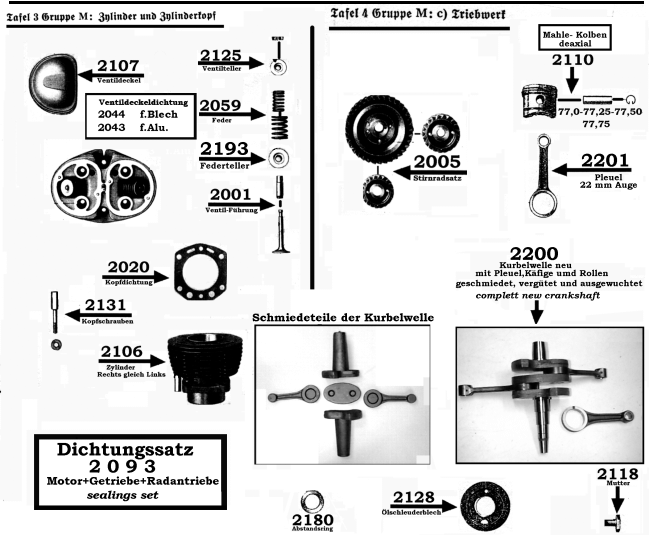 If you have any questions please do not hesitate to contact us - We speak English
Ersatzteil-Dienst    Hans-Peter Hommes    
e-mail adress   hphommes@wehrmachtsgespann.de
back to the Zündapp KS 750 main page